Ranko Saōji

Personal Info
Name (Kanji)
左王子 蘭子
Name (Romaji)
Saōji Ranko
Gender
Female
Classification
Human
Family
Occupation
Student
Media
Voiced By
Sayuri Yahagi (Japanese)
Jamie Marchi (English)
Lindsay Seidel (Child, English)
Debuts
Manga
Chapter 1
Anime
Episode 1
Ranko is the first cousin of Chihiro. Often called Wanko by Chihiro, at times she also keeps on saying that Chihiro should use "-san" after her name. She likes teasing Chihiro and Rea as well. She likes Chihiro and develops a rivalry with Rea.
Appearance
Edit
Ranko has short sandy blonde hair and green eyes. Her body is often emphasized in the anime due to being rather busty and curvy. She also has a light tan complexion.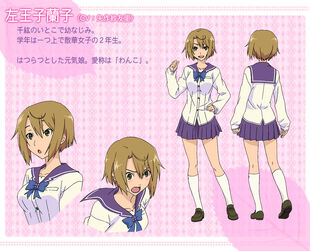 Personality
Edit
She is very supportive. She hates seeing others down and hates when people go about things too easily. She tells Chihiro that "kisses mean a lot and that you shouldn't do them so freely". She also gets annoyed when Chihiro doesn't show her any affection.
She is very sensitive, but she is caring. She tries to help others, since she doesn't like being lonely. She gets along well with the Furuya family and even Rea, despite being her rival.
She is a student of Sanka Girls' High School. Although she's openly competing against Rea and knows of her zombification, they've become good friends. She eventually confesses to Chihiro but realizes before answering that he loves Rea, she is however fine with her unrequited love.
Relationships
Edit
Since Ranko was young, she developed a crush on Chihiro, and wants to have her way with him no matter how long it takes.
She knows Rea, like any other girl as the Sanka Princess. They met again when she found Rea in Chihiro's bedroom as a zombie. After learning of Rea's love for Chihiro, they became love rivals
Suspicion that the characters Tama is the Rai shown in chapter  56.1 of sleeve Sankarea  can be grandchildren of Ranko Saōji and Chihiro Furuya (as Rea Sanka can not have children because she is a Zombie). However as explained is just a guess but and a very plausible assumption, mostly because of how Rea keeps in contact with the children's mother (since Ranko was her romantic rival).
Ad blocker interference detected!
Wikia is a free-to-use site that makes money from advertising. We have a modified experience for viewers using ad blockers

Wikia is not accessible if you've made further modifications. Remove the custom ad blocker rule(s) and the page will load as expected.