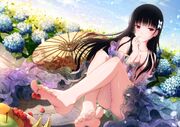 Sankarea
(さんかれあ) is a romantic comedy manga written and illustrated by Mitsuru Hattori about a deceased girl who becomes a zombie. It is published in Japan by Kodansha.
The manga has been serialized in Bessatsu Shōnen Magajin since December 2009, with five complete volumes released as of 28 December 2011. A television anime adaptation by Studio Deen began airing in Japan on April 5, 2012.
The protagonist, Chihiro Furya, is a male highschool student with a keen interest in zombies, collecting zombie-related videogames, film and manga, and even to the point of desiring to "kiss a zombie girl". Following the death of his pet cat, Babu, he attempts to revive it using an old manuscript, which describes the process of creating a potion for resurrection. At this time he encounters a girl named Rea Sanka, who has run away from home.
In an attempt to commit suicide, she drinks a sample of the "resurrection" potion which is created from a poisonous herb known as Hydrangea macrophylla, however this fails to kill her. Following an argument with her father, she falls from a cliff by accident and dies; however as a result of the potion, she turns into a zombie. Though she becomes undead, she chooses not to consume human flesh, and rather survives on eating the hydrangea herbs.
Characters
Edit
Main Characters
Edit
Furuya Family
Edit
Other Characters
Edit
Ad blocker interference detected!
Wikia is a free-to-use site that makes money from advertising. We have a modified experience for viewers using ad blockers

Wikia is not accessible if you've made further modifications. Remove the custom ad blocker rule(s) and the page will load as expected.